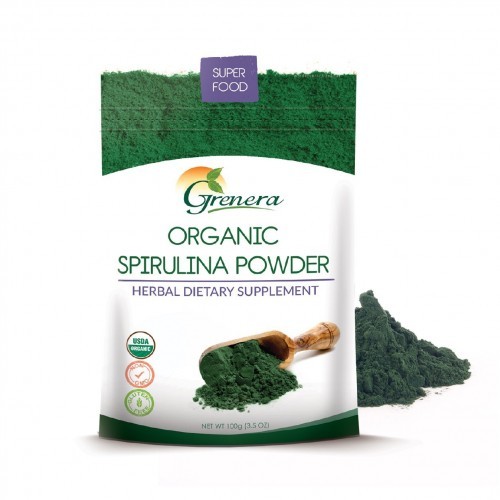 What's in it for you?Grenera Spirulina Power Pack x 1(100 grams burst of goodness)
Why Grenera Spirulina?Grenera Spirulina is cultivated sustainably in open-air fresh water ponds. The clear water is gently exposed to the warm sunlight, allowing these blue green nutritional algae to reproduce rapidly.Spirulina is a natural protein source that is also rich in vitamins, essential amino acids and minerals.
Rich Nature Source of B12Spirulina Powder contains a rich natural source of B12, a wide range of functional vitamins and minerals and a whole spectrum of phtyopigments including beta-carotene, chlorophyll and phycocyanin.
Supports your Immune System.Vitamin B6 and iron in our spirulina powder supports the immune system.
Healthy Brain and Cognitive FunctionGrenera Spirulina powder is rich in Vitamin B6 and contains iron that is known to support healthy cognitive function. In other words, improving your brainpower!
Weight ManagementTaken one hour before meals, Spirulina powder can naturally promote the feeling of fullness and prevent over­eating.
HeartThiamine in Spirulina contributes to the normal function of your heart.
Rich, Complete and Digestible Protein SourceSpirulina powder is very rich in protein (60­-70%), containing 18 amino acids including all essential amino acids. According to studies, spirulina has a very high protein efficiency ratio (PER).
How to Consume?
Stir Grenera Spirulina into juices and favourite drink, blend with fresh fruit for a green protein smoothie or try mixing into dips for a nutritious twist on your favourite snacks.
Customer comments
| Author/Date | Rating | Comment |
| --- | --- | --- |