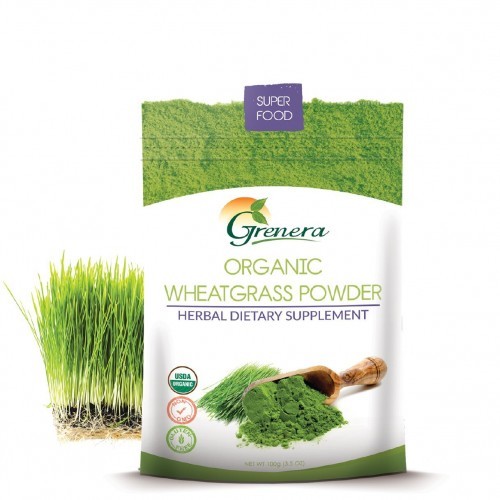 GRENERA WHEATGRASS POWDER
Grenera Wheatgrass Powder

What's in it for you?

Grenera Wheatgrass Power Pack x 1

(100 grams burst of goodness)



Why Grenera Wheatgrass?Grenera wheatgrass is harvested when nutrient levels reach their peak to provide a sweet green powder bursting with chlorophyll and vitamins.At Grenera Nutrients, the wheatgrass is grown organically outdoors, where the combination of natural sunlight and rich fertile soil encourages the assimilation of nutrients in the developing shoots of the wheatgrass.

Our favourite part is the shoots are cut and dried into a vibrant green powder, after being packed with vitamins and chlorophyll.

One single serving of Grenera Wheatgrass contains more than one third of your recommended daily intake of iron. This contributes to the normal formation of red blood cells that aid to transport oxygen around your body.

Benefits:

Healthy skin

– Grenera wheatgrass powder is high in Vitamin A, antioxidants and is a good source of essential fatty acids.
Strengthens your immune system –

Vitamin A in Grenera wheatgrass powder is an important nutrient for the immune system.
Weight loss – Grenera Wheatgrass powder helps weight control by reducing the feeling of hunger and increasing fullness.
Boosts energy – Grenera wheatgrass powder is densely packed with vitamins, including energy ­ metabolizing manganese to increase energy levels in your body.
High in fiber – The high fiber content of Grenera Wheatgrass powder is a great addition to green juices, which usually lacks fibre.

Enjoy as a part of a healthy lifestyle and a balanced diet.

How to consume?Add conveniently to fruit juice, smoothies, soups, dips, salad dressing, stir-fry, and pasta sauces.Mix with water or juice for a pure shot of concentrated green goodness, or blend with fresh green vegetables for a healthy detox smoothie.

Recommended to be 10­-15 grams per 200 ml serving.
Customer comments
| Author/Date | Rating | Comment |
| --- | --- | --- |