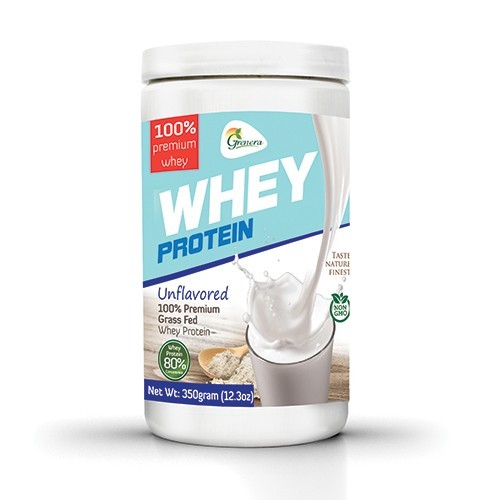 GRENERA WHEY PROTEIN POWDER – UNFLAVORED






Whey Protein Powder Original (Unflavored)



What's in it for you?Whey Protein Powder x 1 Jar (350g)

(Unflavored Original)

Why Grenera Whey Protein Powder?Grenera offers superior quality whey protein from cows that are grass fed on small family farms. We ensure our Whey protein powder, are the finest, purest and unadulterated by making sure there are no added sweeteners, preservatives or fillers.

Grenera Nutrients offer 100% pure organic Whey from the milk of grass fed cows which are rich in nutrients. These cows are raised without hormones, antibiotics, steroids or genetically modified feed. The milk is processed at low temperature without any acid treatments.

Most Whey is heat processed that caused it to be acidic and nutritionally deficient. In turn, Grenera's cold pressed whey protein prevents this and protects the nutrients before consumption.

Ingredients100% Pure Grass Fed Whey Protein Concentrate 80%
DirectionsMix 5 tablespoons of whey protein powder with 300 ml of cold water. Alternatively, you can also add to 300 ml of milk or your favorite beverage.

Consume your whey protein mix within 20 minutes after completing your workout or whenever additional protein is needed.

To maximize post workout recovery, you may add one tablespoon of Grenera's Whey Protein to your shake as well.






Customer comments
| Author/Date | Rating | Comment |
| --- | --- | --- |